Photographic Tribute to the Millenium
1999 - 2000: 350-Mile Exploratory Trek:
Death Valley to the Mexican Border

A test of Will -
Adventures survive 34-day, 365 mile trek
By Charles F. Bostwick Staff Writer
From The Daily News

PALMDALE --

Antelope Valley adventurers Lee Bergthold, Christine Bowers and Al Caler are back from a 34-day, 365-mile trek from Death Valley to the Salton Sea.

On the way they encountered thirst, hunger, bruised and blistered feet, sand dunes, rocky ravines -- even a fox that invaded their campsite one dinnertime to chew up gear and steal a glove, and a lunar eclipse that covered the moon they were using to see and navigate.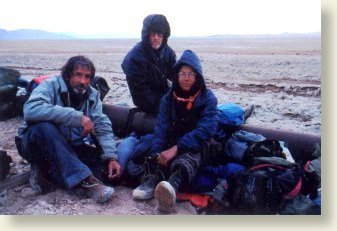 The trip wasn't a casual backpacking vacation.

Bergthold, an Antelope Valley College assistant professor of photography who has hiked mountains and deserts for 50 years, lost 25 pounds. Caler, 61, a Palmdale resident who was just back from the Brooks Range in Alaska and has hiked with Bergthold for 15 years, was similarly emaciated.
"We would be under way by six. We would go until after dark, when we couldn't see anymore," said Bergthold, 64.

On their longest day they hiked 25 miles, on two cups of water each. They were out of water and the nearest place to get it was the desert town of Baker, Bergthold said.

Long after nightfall they reached the home of a man who sold ice. He came out and turned a spigot on for them, and they camped outside the wall of the school office on the outskirts of town.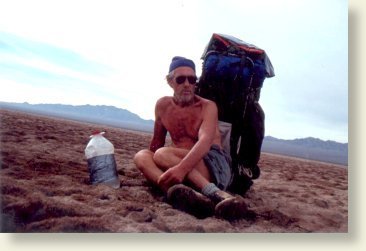 "My legs were cramping and buckling if I stopped, so the best thing to do was not to stop," Bowers, a 36-year-old photo lab aide and student at Antelope Valley College, said of that day.

Before getting out of Death Valley National Park, they fell behind their schedule by getting into a canyon that ended in a waterfall they couldn't get around. So they backtracked.

Also in Death Valley, they encountered the cave of a mountain lion -- containing the bones of two bighorn sheep.

Toward the end, they were pushing for 15 or 18 or 20 miles a day, walking until after sunset, then eating dinner, then setting off again under the full moon.

One of those nights, four days before they reached the Salton Sea, was the lunar eclipse, which they mistook for clouds covering the moon.

"It was pitch black," Bergthold said.

They ended up walking in a circle back toward 29 Palms. They discovered their mistake when they saw a vehicle in the distance and it turned out to be a motor home towing a boat.

They had a self-imposed deadline because Bergthold was due back Jan. 25 to teach his first class of the spring semester at Antelope Valley College. Bowers had a class Jan. 24 that she missed.

Friends often wish Bowers a good time when she leaves on treks, or ask her whether she had fun when she gets back.

"I tell them over and over, it's not a vacation, it's not a picnic," she said last week. "In fact, I need a vacation now. So why do it?

It's partly the opportunity for photography, she said. And it's partly a challenge to herself.

"It forces me to stay out there and deal with whatever comes up," Bowers said. "It's what I call a mental discipline for myself. Sure, it's very, very physical, but without mental discipline you wouldn't make it."
All Photos Covered by International Copyright Law.