PROFESSOR SEES THROUGH
THEIR EYES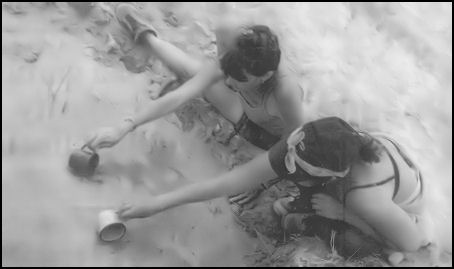 Connie Simpkins and Christine (Tina) Bowers take water from Hall's Spring, Utah.
Photo by Lee Bergthold, Associated Press
(© International Copyright Laws)

New Respect for Donner Party
BY MARTIN GRIFFITH
Associated Press

From The Antelope Valley Daily News
Monday, September 139, 2006
Reno, Nev – On the 100th anniversary of its tragic journey west, the Donner Party has gained a new fan.
Former Marine Corps survival instructor and Antelope Valley College photography instructor Lee Bergthold is praising the group's grit after completing a 32-day, 300-mile trek through Nevada desert and mountains from the Utah border to Battle Mountain, about 220 miles east of Reno.
It was the third and final leg of a multiyear project designed to give insight into the Donner Party and whether it could have fared better by taking alternate routes on the western end of its trip.
Like the earlier travelers, Bergthold had to contend with heat, dust and a lack of water before wrapping up the hike June 6.
"I have the greatest respect in the world for the Donners and all the other pioneers who came west," said Bergthold.
"I'm glad we still commemorate these pioneers and their spirit. After all, that's what we came from," he said.
Bergthold's latest adventure was preceded by a 35-day, 350-mile trek from Battle Mountain to Death Valley in the winter of 1996-97 and by a similar walk from Death Valley to the Salton Sea in the winter of 1999-2000.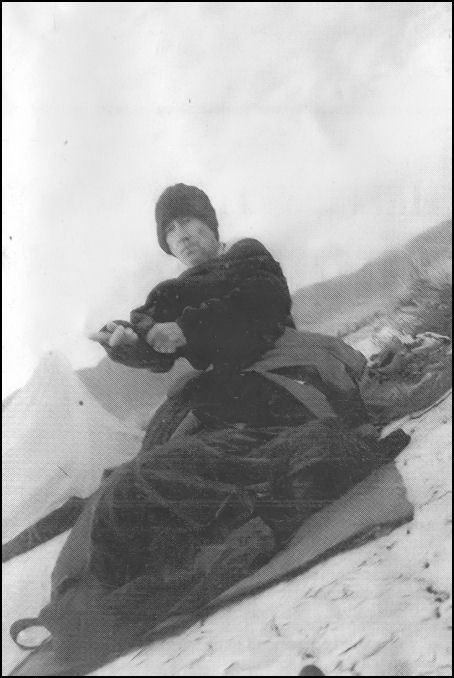 Al Caler, greets the day on the Alkali Flats - Independence Valley.

Photo by Lee Bergthold, Associated Press
(© International Copyright Laws)



He concluded after the earlier hikes that despite the hardship of cross-country travel, the Donner Party probably could have survived by taking a more southerly route across the Sierra.
In the latest hike, he started out on the Hastings Cutoff, the infamous "shortcut" that helped doom the group of California-bound pioneers who became stranded by heavy snow in the Sierra in the winter of 1946-47.
About half of the 89 Donner Party members died and some survivors ate the flesh of their dead companions near the mountain pass that now bears the party's name.
Bergthold, 71, left the Hastings cutoff near Overland Pass south of Elko to follow a more direct, unspoiled cross-county route to Battle Mountain.
"It could have possibly saved the Donner Party some time if they took it," he said, acknowledging the party would have had no way to know about the route.
Berghtold was joined on the hike by Christine Bowers, Al Caler and Connie Simpkins. Simpkins was knocked off it for more than a week near Elko after she became dehydrated and her legs gave out.
"The difficulties just make you appreciate all the little things like the beautiful sunsets and absolute silence at night," Bergthold said. "The landscape is enthralling even on the dirty desert."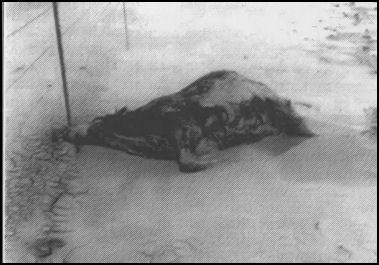 Numerous dead animals along the Hastings Cutoff offer mute testimony regarding harsh desert life.

Photo by Lee Bergthold, Associated Press
(© International Copyright Laws)