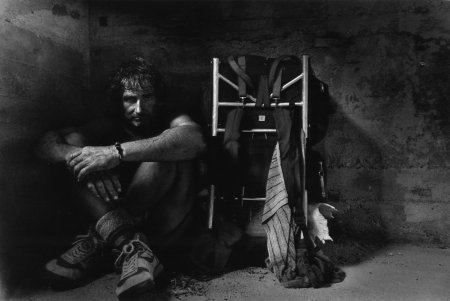 The Fiftieth Day
"...Eat your veggies, you'll need 'em..."
Lee Bergthold

Present:
Professor of Photography/Documentary/Photojournalism, Antelope Valley College

Founder/Director of the Center for Wilderness Studies (CWS)

Outdoor Photographer

Lecturer

Presenter
Past:
U.S. Marine Corps; survival instructor, Korean Conflict

Cross-country bicycle trek, 1963: six western states, 2700 miles, 31 days

Six-year exploratory trek in the Panamint Mountains and Death Valley

1989 Cross-country survival trek from Badwater in Death Valley to Mt. Whitney

Winter 1996-1997, 350 mile, 35 day, cross-country trek, Battle Mountain., NV to California's Death Valley, with companion, Christine (Tina) Bowers

Winter 1999-2000, 365 mile, 34 day, cross-country trek, from Death Valley to the Salton Sea, with companion, Christine (Tina) Bowers and Al Caler

Spring 2006, 340 mile, 32 day, cross-country trek, from Donner Springs, UT, to Battle Mountain, NV, with companion, Christine (Tina) Bowers, Al Caler and Connie Simpkins

Exploration into the Argus Range, due west of Death Valley US Forest Service: 'Hot shot' firefighter, 'blister rust' crew, 'rock buster' crew (blasting), G-3/black powder
Activities:
Outdoor trekking (average 80-100 days/year in field)

Photography (mixed genre), on permanent display, various locations.
Range:
Publication Credits:
Newspapers: hundreds of features/photos including:
L.A. Times

USA Today

AP

UPI

Gamma Liaison

Magazines:
Sunset

Street Chopper

Backpacker

U.S. Physician

Petersen's Photographic

American Photo

Fur-Fish-Game

American Health

Time-Life Publication
Books:
Age: 86 as of March 2021

Education:
UC Santa Barbara, MA degree, Ergonomics (pre-med)

Brooks Institute of Photography, Santa Barbara, MS degree, Psychology Visual Communications
Residence:
Edge of Mojave Desert ... 2.5 acres ...